This is a new recipe we made for this year's Friendsgiving gathering, and it was a huge hit.
Definitely making this one again for Thanksgiving!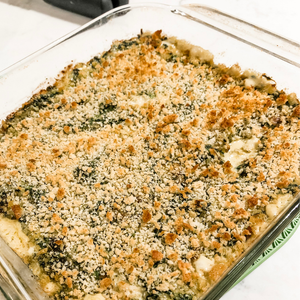 Ingredients:
2 gloves garlic, minced
3 tablespoons unsalted butter
1 small onion, finely chopped
1 1/4 cups heavy cream
1/4 teaspoon freshly grated nutmeg
Cajun seasoning, to taste
Two 10-oz packages of frozen chopped spinach, thawed and squeezed dry
1 package bacon
1/2 cup grated parmesan
2 oz cream cheese
2 tablespoons Panko breadcrumbs
Instructions:
Preheat the oven to 400 degrees. Melt the butter in a medium saucepan over medium heat. Add the garlic and onion and cook, stirring occasionally, until softened. This should take 5-6 minutes. Add the heavy cream, nutmeg and Cajun seasoning and bring to a simmer. Let the mixture simmer, stirring occasionally, until slightly thickened.
In a separate pan, cook your bacon until crispy, and then chop into small pieces. 
Mix the spinach and bacon into the mixture, along with 1/4 cup of Parmesan. Add the cream cheese and stir until melted. Season with more Cajun seasoning to taste.
Transfer the mixture into a 1 1/2 - 2 quart casserole dish and sprinkle with the Panko breadcrumbs and remaining Parmesan. Bake until bubbling and light golden-brown on top. Total baking time should be around 15 minutes. Remove from oven and serve warm!