When you want to bring a tasty side to a holiday party without being the fourteenth dip on the buffet line...Cue: Sweet & Salty Green Bean Bundles! 
Makes 10-15 bundles 
1 (12 ounce) package of long green beans
1 package thin bacon 
1⁄2 cup soy sauce 
1 tablespoon Worcestershire sauce 
1 tablespoon butter 
3 tablespoons brown sugar 
2 garlic cloves, finely minced
Toothpicks 
To Make:
These tasty little bundles are great as a side with almost any meal, and they also make a great appetizer to show up with at your next family gathering. 
The green beans: Bring a medium sized pot of lightly salted water to boil. Drop the green beans into the boiling water for about five minutes so that the beans start to soften, but are still partly crunchy. Remove from the heat, drain the water and set the beans aside. 
The bacon: In a cast iron skillet, cook about ten pieces of bacon for about four minutes, so that it is cooked, but not crispy. You want the bacon to be limber enough to wrap around the bundles of green beans. 
The sauce: In a small sauce pan over medium heat, melt the butter and add in the minced garlic. After about two minutes, add the soy sauce and the brown sugar and stir it all together. When the brown sugar has dissolved, remove the sauce from the heat. 
The bundles: Cut your ten pieces of bacon in half. Take about five or six green beans at a time and wrap a piece of bacon around them, covering a good portion of the center of each bundle. Stab a toothpick or two through the bacon to hold the bundles together. Repeat this until all of your green beans are wrapped. 
Pre-heat your oven until 350 degrees. Place the bundles on a cookie a sheet and brush each one with the sauce, saving enough to brush them again once they are done baking. Bake for 20-25 minutes, remove and brush the remaining sauce on top of the bundles.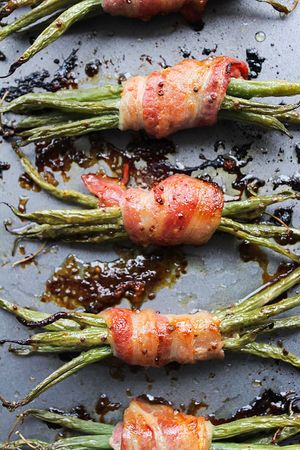 Pre-Order Your Copy of United Plates of Texas today! **Ships In January**