If you're not using beer in your Brussel sprouts, you're doing it wrong. 
I love Brussel sprouts almost any way you can possibly serve them, but this recipe will turn even the most adamant Brussel sprout hater into a lover, trust me. 
5-6 cups Brussel sprouts 
8 strips bacon 
2 tablespoons balsamic reduction 
2 tablespoons honey 
1 teaspoon salt 
Fresh cracked black pepper, to taste
1/3 cup Beer (or water)
Cook the bacon in a cast iron skillet (preferred) or a regular skillet over medium/low heat, flipping it until its crispy all over. This should take about ten minutes. Transfer the bacon to a plate layered with paper towels, leaving the drippings in the pan. You should have about two tablespoons of drippings left in the pan; if there is too much just remove a little, if not enough, add a little olive oil. 
While the bacon is cooking, you should cut the Brussel sprouts in half. If the stems are too large just cut them off and throw them away. 
Heat the pan of bacon drippings to medium/ high heat and arrange the sprouts cut-side down in a single layer and sprinkle with salt. Cook for about four to five minutes without moving so they will start to brown on the bottom. Now, stir them around and add just a splash of water to deglaze the bottom of the pan and lower the heat to medium. Allow the sprouts to cook for another three or four minutes, until they are slightly tender when poked with a fork, but NOT too soft – you want them to remain a bit al dente. 
Reduce the heat to low, crumble the bacon and add it back to the pan, along with the honey, balsamic reduction and cracked black pepper. Toss everything together to evenly coat it all and then plate it up and serve. You might want to top it with a little extra bacon if you kept some aside. Enjoy!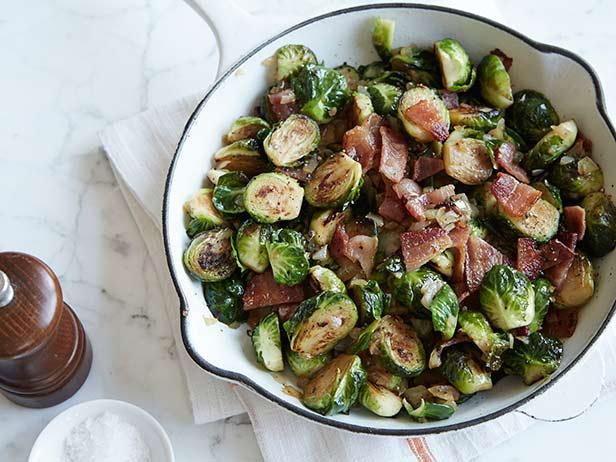 Click here to Pre-Order the new cookbook, United Plates of Texas! **Ships in January**