Our Christmas Day brunch tradition is Cassie's favorite - egg's Benedict. But I decided to spice it up a few years back and make them with crab cakes, and infuse the hollandaise sauce with bacon and we quickly had a new favorite. This meal is not one you'd consider quick and easy - but definitely worth it. 
Serves: 4 
FOR THE CRAB CAKES: 
1 egg 
2 tablespoons green onions, chopped 
1⁄4 cup roasted red pepper, chopped 
1 tablespoon melted butter 
8 ounces lump crab meat 
1 cup panko bread crumbs, plus 1 cup divided 1⁄4 teaspoon salt 
1⁄2 teaspoon pepper 
Pinch of cayenne 
1⁄2 teaspoon Old Bay seasoning 
FOR THE HOLLAINDAISE: 
4 strips bacon 
4 tablespoons butter 4 egg yolks 
2 tablespoons lemon Pinch of cayenne 
4 eggs (for poaching) 
The crab cakes: Combine all the crab cake ingredients into a large mixing bowl. Reserve one cup of the Panko for breading. Form into 4 patties, about 1 inch thick. Place remaining Panko in a bowl, and one at a time, place the patties in the Panko and press until they are well-covered with bread crumbs on all sides. 
In a pan over medium high heat, cook the bacon until crispy and cooked all the way through. Set the bacon aside. Add the crab cakes to the pan and cook them in the bacon grease. Cook until they are golden brown on the underside, and then carefully flip the crab cakes and cook on the other side until they are cooked all the way through. This should take about 3 minutes per side. Once cooked, remove from heat and set aside. 
The hollandaise: In a food processor, add the bacon and process until the bacon disintegrates into crumbs. Add the egg yolks and process for about three minutes. Melt the butter in a pot on the stove (or in the microwave) until hot and steaming. While the food processor is running, slowly, SLOWLY add the butter until it is well-combined with the yolks. Add the lemon and cayenne, and process until smooth. If your sauce is too thick, add water about a teaspoon at a time to thin it out. 
The eggs: To poach the eggs, bring a large skillet of water to a simmer over medium heat. Break your cold eggs one at a time into a small bowl. Holding the bowl just above the simmering water, gently slip the egg into the water. Repeat for the remaining eggs. Cook the eggs in barely simmering water until white is set and yolk is cooked but still runny inside. This usually takes about 3-4 minutes. Remove the eggs with a slotted spoon and drain well. 
Place one crab cake on each plate, top with the poached egg, then add the hollandaise. I like to serve it over a bed of arugula to add a nice color and extra flavor. Season with pepper to taste and serve right away.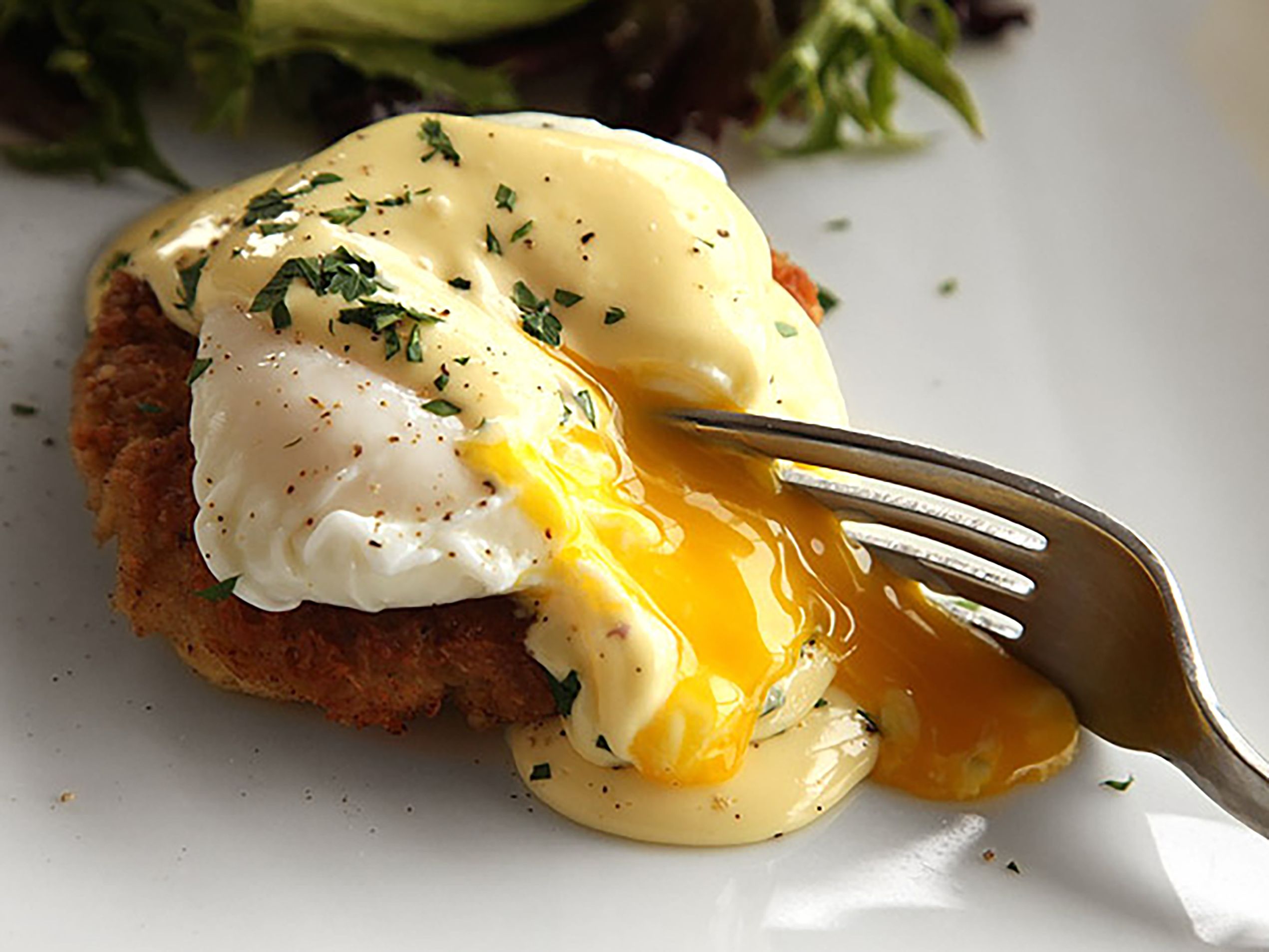 Click here Pre-Order our new cookbook, United Plates of Texas, today! **Ships in January**