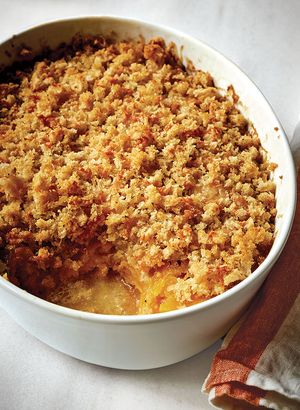 Ingredients: 
1 large butternut squash (about 7 or 8 cups), cubed into 3/4 inch chunks
2 cups sweet onion, finely chopped
2 tablespoons butter
1 tablespoon olive oil
2 eggs
1/3 teaspoon salt
1 teaspoon black pepper
2 cups real mayo
1 cup grated Parmigiano Reggiano
1/2 cup Panko breadcrumbs
Pre-heat the oven to 350 degrees. Cube the butternut squash and then boil for 15 minutes in slightly salty water until fork tender. Drain and set aside. 
Finely chop the sweet onion, and then sauce in the olive oil over medium heat until soft and translucent. 
In a casserole bowl, mix the butter, mayo, eggs, onion, salt and as much black pepper as you like, and most of the parmesan and Panko (save a little of each for the top). Add the tender butternut squash to the mixture, folding it all together evenly. Top with the remaining Panko and parmesan and bake for about 40 minutes. Remove from the oven when the top has a golden-brown color. Let it cool just a bit, and serve warm. 
For more recipes, order United Plates of Texas cookbook today!